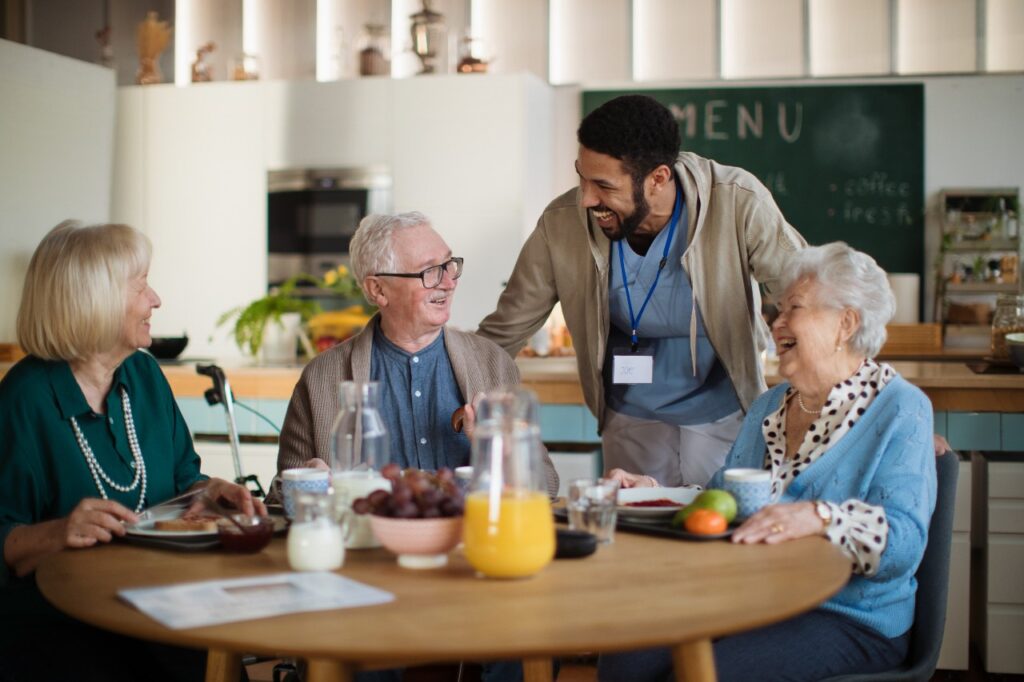 If you've just started researching your senior living options, you've probably discovered that there are a lot of different terms for what communities call "levels of senior care" including independent living, assisted living, memory care, skilled nursing and rehabilitation. There are also various descriptions such as Life Plan Communities, Continuing Care Retirement Communities and Life Care communities. But what do each of these terms mean?
Before we dive into the different levels of care for seniors, Friendship Village of Tempe is a Life Plan Community (also known as a Continuing Care Retirement Community) offering an all-inclusive, maintenance-free, wellness-focused lifestyle with plenty of social opportunities, activities and a full continuum of on-site care. However, Friendship Village is a Life Care community as well.
What is Life Care? Life Care is a type of contract that gives you guaranteed access to higher levels of care, should you ever need it, at predictable monthly rates that are generally well below what you'd pay at a non-Life Care community for the same type of care.
Benefits of Choosing Our Life Plan Community
One and done: Choosing a community without continuing care could mean that if you need a higher level of support, you would have to move to a different community during a health emergency.
We get to know you: Once you become a part of our community, you get to know and trust our team and they get to know you.
Peace of mind: Knowing you have access to on-site care allows you to focus on today with less worry about the what ifs of tomorrow.
Stay connected: If you or your spouse needs care, you're never far apart.
Stay in a community: On-site care allows you to continue to see your friends.
Keep enjoying life: You'll continue to have access to the community's services and amenities.
Independent Living
When choosing the right community for your lifestyle, independent living is what most seniors consider first. Designed for active older adults who want the freedom to pursue their interests, independent living's maintenance-free lifestyle takes care of all the responsibilities of looking after a home including housekeeping and indoor and outdoor upkeep. Independent living at Friendship Village focuses on your health and happiness by providing you with the resort-like services and amenities — including fitness class and wellness programs — to help you live life your way.
Different Levels of Senior Care
Considering the Department of Health and Human Services found that someone turning 65 today has almost a 70% chance of needing some type of long-term care, it's important to have a plan in place. Here are the senior living levels of care to consider.
Assisted Living
Assisted living helps residents maximize their independence by helping the activities of daily living including getting dressed, medication reminders, grooming, mobility assistance and more.
Assisted living at Friendship Village includes:
Private apartment homes
Certified and Licensed Practical Nurses available 24/7
Breakfast, lunch and dinner served in our dining room
Supervision of medication, treatments, glucose monitoring and eye drops
Monitoring of monthly blood pressure, vital signs and weight
Variety of daily activities
Biweekly housekeeping
Weekly changing of bed linens and flat linen service
Daily trash disposal
24/7 security
Ambulation assistance to and from activities and services in our Nunnenkamp Center, if needed
Memory Care
To engage and empower those with memory loss, our memory care team provides the supportive services found in assisted living and trained in dementia care. We get to know each resident's preferences and work with their doctors, family members and friends on their care. Our consistent and supportive approach is tailored specifically to those with memory loss. Our community is designed to help with navigation and has additional safety features including a secure outdoor courtyard.
Memory care at Friendship Village includes:
Private apartments and showers
Serene garden with granite water feature
Outdoor walking path
Three nutritious meals with daily snacks
24/7 secure environment
Aroma therapy
Certified resident assistants available 24/7
Housekeeping and flat laundry services
Wellness monitoring by licensed staff
Personal care assistance (bathing, dressing, grooming)
Pet therapy
Medication administration
Skilled Nursing
Skilled nursing is primarily for those who need round-the-clock care by licensed medical staff after a serious post-hospital illness, injury or surgery.
Skilled nursing at Friendship Village includes:
24/7 skilled care
Licensed and certified staff
Variety of daily activities
Regular health care assessments
Social services, including resident advocacy and family support
Chaplain
Daily linen service
Three nutritious meals served restaurant-style, plus daily snacks
Specialized diets monitored by in-house registered dietician
Rehabilitation
After an injury or illness, you may need short-term rehabilitation. Our team at Friendship Village works with your family, primary care physician, nurses, social services and specialists in the therapies you need to get you back to what you enjoy doing.
Rehabilitation at Friendship Village includes:
Physical therapy — Identifies barriers to independence and provides treatments to overcome these problem areas.
Occupational therapy — Preserves or enhances independence with daily living skills.
Speech therapy — Enhances communication, cognition and swallowing.
Specialty programs for aphasia, dementia and dysphagia — Focuses on safety and independence.
Enjoy Today More with Peace of Mind for Tomorrow
To learn more about our different levels of senior care and the financial benefits and reassurance of choosing a Life Care community like Friendship Village of Tempe, contact us here.