Drawing Her Own Retirement
Friendship Village Tempe's Ann Dellis Shares Her Gift with Neighbors and Friends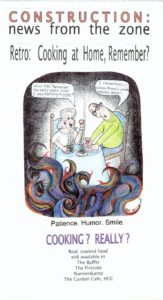 As Friendship Village began the expansion process last year, resident Ann Dellis was there to ensure people are able to smile during the inconvenience. Thanks to her talent as a cartoonist, and her quick wit, Ann has been bringing joy to others since she was a teen.
"Whether sharing cartoons here at The Village; or doing more editorial-style cartoons on behalf of the union when I was a teacher, I've found many ways to incorporate cartooning into other aspects of my life," Ann said. "Friendship Village Tempe is a community of people who support and share with one another. This is just my small contribution."
Some of those cartoons appeared in local newspapers and helped rally support for the teachers union's cause. Over the course of her life, Ann has contributed her cartoons to various fundraising activities as well, including at Friendship Village.
"Ann's unique gift for creating humor through her cartoons has brought a lot of smiles to our residents and team members," said executive director Cole Marvin. "We're a community that's very open about sharing what makes us unique as individuals. I'm glad Ann is part of that tradition!"