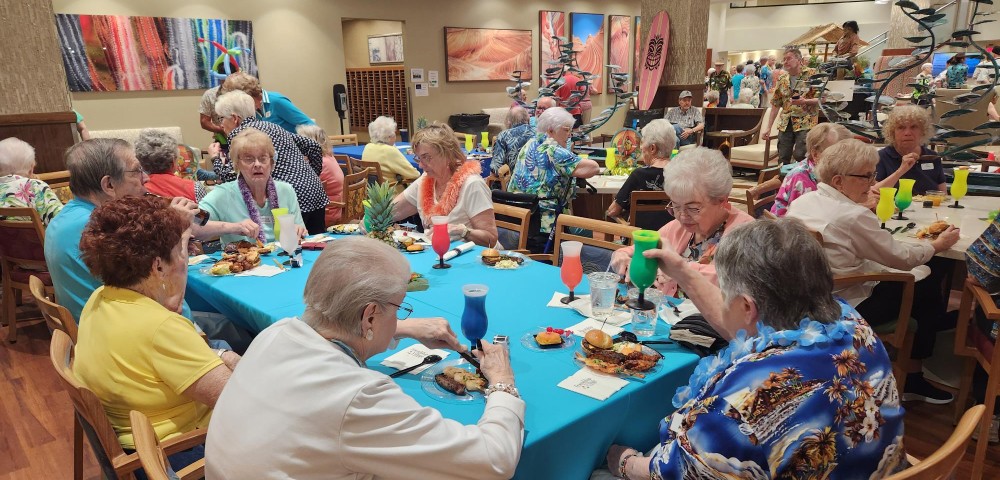 After nearly half a century, this party isn't about to stop!
You might imagine that senior living in Tempe Arizona is hot, but if you've never visited Friendship Village Tempe, you have no idea. After 43 years as one of the hottest senior living communities around, we threw ourselves a party that blew the roof off this joint. (Not literally, of course. We are very structurally sound. Just a little kooky around the edges.)
"We hosted nearly 600 visitors at this year's anniversary celebration," said Executive Director Cole Marvin. "It's a good thing we had three bars. We served signature frozen margaritas in souvenir glasses that changed color based on the drink's temperature, so you knew when it was time for a refill."
Revelers at this year's party were also treated to world-class cuisine while they enjoyed dueling pianos, a steel drum band and a courtyard dance floor. Face painters, balloon artists and wandering musicians made sure no one was left out of the fun.
"We even had 10 pet birds available for photo opportunities," Marvin said. "Everyone was decked out in colorful garb, which gave our community a festive island feel."
A party 43 years in the making.
In 1970s Arizona, there wasn't much to party about. Sure, the dry desert climate offered unlimited sun, sand and blue-sky views, but there wasn't a senior living community. At least not like the funky, far-out paradise we had in our minds. (We did mention this was the '70s, right?)
Together with our friends at Life Care Services, Friendship Village Tempe rose from the sand like a mirage to serve all the thirsty seniors wandering through the desert of retirement. By 1980, our little senior living community was one of the first Life Plan communities in the region. Back then, we called them continuing care retirement communities (CCRCs) because it sounded cool.
What began as a nice place to retire is now a wonderful lifestyle for residents.
We've created this special place by building on four pillars:
1. Life Care
It comes with everything, including the guarantee of long-term care, peace of mind and a spring in one's step.
2. Top-shelf hospitality
We open doors. We serve with a smile. We treat residents as if we work inside their home, which we do.
3. 8 Dimensions of Wellness
We put everything in place for a happy, healthy life. Feel good, live long, whistle your favorite tunes.
4. Open arms
The cheerful brew of acceptance and fun cooked up by wonderful residents is both terrific and unique. You simply won't find a finer bunch of folks to make friends with than the people who call Friendship Village home.
This party is just getting started. And you're invited!
They say you should save the best for last. We couldn't agree more. We believe a senior living community's job is to provide an inviting, invigorating place where you can live your best life and be your best, most authentic self. But don't take our word for it. Listen to what our residents have to say. And if we've managed to entice you with our tales of our unique style of senior living in Tempe Arizona, we invite you to come check out our community for yourself. No need to wait until the next anniversary celebration. Every day is a party here!