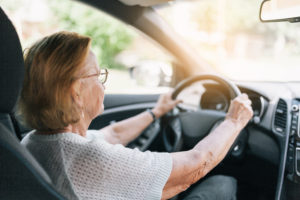 Best Time to Move into a Retirement Community in Tempe, AZ
So you're wondering whether the time is right to move out of the house and into a senior living community . It's a question seniors and their families inevitably ponder.
Full disclosure, friends: We're here to tell you the benefits of living in a retirement community in Tempe, AZ , sooner rather than later. And we think our case is solid.
A little Q&A to get your head in the game
Answer the questions below in two ways:
1. Your answer today.
2. What you expect your answer will be in five years.
Here we go:
Are your meals healthy or simply convenient?
Are you still confident behind the wheel?
Do you wish you went outdoors more often?
Do you see friends as often as you'd like?
Are there rooms in your house you don't bother with?
Is housework becoming more difficult?
Are stairs becoming difficult?
Do you ever fret about where you'll be in five or 10 years?
There are no wrong answers, of course. It's just a benchmark for your state of mind and level of activity — both of which can be tweaked for the better in the right environment. Speaking of the right environment …
Put "those places" out of your mind
We hear it all the time: "I'm not ready for one of those places." This almost always refers to a person's grimmest idea of a nursing home.
Understand that a Life Plan Community (also known as continuing care retirement community or CCRC) is a world away from "those places."
A Life Plan Community like Friendship Village Tempe offers active, fun-filled independent living in a neighborhood setting and also provides access to health services including skilled nursing, if you ever need them. But waiting until you need care can be a costly self-imposed obstacle. Here's why:
Life Plan Communities, especially those offering a Life Care contract, can save you thousands of dollars if you move in while you're still independent . Most require a health assessment before qualifying for the full continuum of care at the best rates. Thus, waiting can hit you or your family right in the wallet.
As one senior said insightfully, "It's better to move in five years early than five minutes late."
What do you wish you were doing today?
Do you look forward to unclogging drains? Does a burned out bulb in a high ceiling light put a smile on your face? And by the way, that lawn isn't going to mow itself when it's 95 in the shade.
The unburdening of household chores is one of the wonderful benefits of moving to a retirement community in Tempe, AZ . Maintenance-free independent living comes with more time and more energy for activities that make you happy.
Even if you're hale as a horse and still love the current toils of homeownership, it's worth a peek into the crystal ball. In five years, will plunging the bathroom sink still seem like such a cherry on top of your day?
So yes, to be sure, there are life-enriching advantages of shedding housework and moving to a maintenance-free retirement community.
The early bird gets the best nest
The sooner you start planning, the more options you'll have — in the community you choose, and also in the particular residence or floor plan you move into. Working without pressure, you'll have time to shop around and identify the best fit. There's a lot to consider: location, resident culture, menu of amenities, health care options and, of course, cost.
On the other hand, if you wait until there's an age-related crisis involving you or your spouse, you'll likely be making decisions under duress. Or worse, someone else will be making the decision for you.
This should be the time of your life
Don't forget, on top of factors like long-term care, financial flexibility and estate protection, you're still going to be waking up and living each day. Why not have fun doing it? A Life Plan Community offers countless activities, amusements, intellectual pursuits and social occasions. With isolation being a common danger of aging, the camaraderie alone can supercharge a person's daily enjoyment and overall well-being.
Conclusion: Moving Sooner is Better, with a Comforting Caveat
There's no question that making your choice earlier gives you financial and lifestyle advantages, while waiting can cause you to lose out on both. The good news is, you don't have to move immediately. But you should start planning.
To learn more about our senior livng community in Tempe, visit our website, then schedule a tour. Enjoy lunch with a sales counselor, and talk to the residents who have already live here.
While the right time to actually move to a retirement community differs for everyone, we'll leave you with this common testimonial: Ask a few Friendship Village residents about their experience, and someone's bound to say, "With so much to do, I wish I'd moved in sooner."
Please fill out the form here, and we'll be in touch.