For Friendship Village's Evie Hasner, age is truly just a number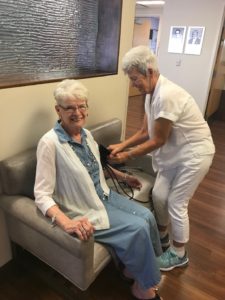 At 82, Evie Hasner could easily kick back and call it a career. Her passion for nursing, however, keeps her going. It's a true "senior caring for seniors" story here at Friendship Village Tempe, and we can't imagine life without Nurse Evie!
"I live for each day and try not to look beyond it," she says. "I'm sure I'll hang up the stethoscope someday, but right now, I love what I'm doing."
While she doesn't work full-time anymore, Evie still spends plenty of time here at the Village. She makes "house calls" to residents, ensuring they're taking medication and checking vital signs if necessary.
"I don't wear scrubs because I'm visiting these residents in their homes," she says. "This isn't a hospital or a nursing home. It's a community of vibrant, active seniors, and I'm glad to do my part to keep them happy and healthy!"
Anyone who's spent time with Nurse Evie knows there are always plenty of smiles when she's around!
Life Care Community in Tempe, AZ. Honors Residents
Our culture embraces individuality and residents are drawn to fun. Residents make it their business to create good times for themselves and others. At Friendship Village, we want you to enjoy today to its max, and make tomorrow better still. Contact us to learn more about the carefree lifestyle.