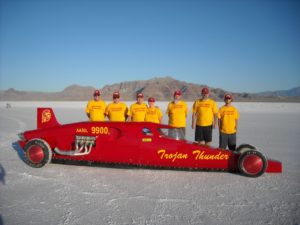 You might call him "Stan the Man" or "The Silver Speed Racer." Whatever you call him, don't call Stan Settles of Tempe "old". It's not in his DNA. Every August, this resident of Friendship Village Tempe heads to Utah to participate in Bonneville Salt Flats racing. With a personal record of 263 miles per hour, he's earned his reputation.
Stan's trips to the salt flats are also about bonding with his son, a driver like his father. While he admits he doesn't get behind the wheel as much as he once did, his passion for driving and his love for the sights and sounds of the track remain as strong as ever. He began drag racing in 1961 and is ready to take his car, Trojan Thunder, out again.
A former USC professor, Settles involved his students in the process of perfecting his car as he worked to add speed potential to his prize possession. He says his engineering students were – and still are – among his biggest fans.
Stan's fellow residents at Friendship Village say they love hearing his racing stories, seeing photos from the salt flats and talking to him about his engineering exploits.