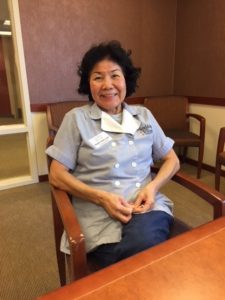 The 6,000-plus-mile journey from Japan to the United States was paved with hardship for a young girl named Keiko.Her long journey would eventually lead her to Friendship Village Tempe, but not before life presented challenge after challenge.
In defiance of her family, she left her home of Okinawa to marry a man who had been stationed there with the U.S. military. She thought he was the man of her dreams, but a nightmare awaited her instead.
Within only a few years, her husband left her for another woman. Alone in a foreign land and speaking only broken English, Keiko hoped her luck would turn. She married again. This time, abuse followed – both physical and emotional. Only her faith – and a family she never expected to find – kept her going.
That family was found here at The Village, where open arms is a way of life. What began as a job and a fresh start turned into a 30-plus-year senior living redemption story. It was here that Keiko's life began to finally turn around. Working as a housekeeper, she says she was cared for and nurtured by residents and fellow team members. She learned English, studied art, and fell in love – this time to a good man.
Keiko recently celebrated 30 years at Friendship Village. She has grown children who are successful and a marriage built on love and faith. She says none of it would have been possible without her family at "The Village."