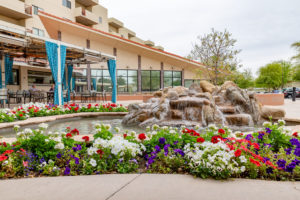 Make it the best decision of your life.
Choosing the right retirement community​ is unlike any decision you've ever made. We can hear you chuckle as you remember college applications, choosing your profession, buying a first house, courting the love of your life (OK, it's hard to compete with that one). Nevertheless, let's consider:
The best ​retirement communities in Phoenix, Arizona,​ include so many benefits, amenities and services that your one decision is like choosing a home, your neighbors and social club, the restaurants you frequent, handyman services, maybe a house of worship and, if you ever need it, the place and people who will provide ​long-term care — all at once.
Surprising to many, so much is included in your one-time entrance fee and monthly fee that choosing a retirement community in Phoenix​ can be a tremendous value.
Tips for choosing wisely.
As you explore your options, it's important to recognize ​retirement homes in Phoenix​ vary in many ways: aesthetic appeal, services and amenities, contract structure, levels of long-term care, overall quality and, of course, location and cost.
So how do you go about ​choosing the right retirement community​ for you?
Start online​. Websites abound that offer ​Phoenix retirement community ratings​. Some, like Yelp​ are more well known and may have more reviews. Others ​specialize in ​rating retirement communities and may offer more insight. Not to ​toot our own ​horn​, but Friendship Village reviews​ are ​overwhelmingly positive. Toot-toot, let's move on.
Take community tours​. While you should start online, nothing replaces a boots-on-the-ground visit. Look at everything — from residences, common areas and green spaces, to whether people seem happy and engaged.
You can ​schedule a tour​ online or by phone. Why not book your visit over lunch? It's a great way to sample the dining and see the community during a busy time of day.
Ask questions.​ Here's a list of ​questions to ask before moving into a retirement community​:
Ask yourself:
Am I satisfied with the cleanliness?
Do the buildings and grounds appear well maintained?
Am I satisfied with the size and configuration of the community?
Do they offer floor plans to suit my preferences?
Does the staff seem friendly and attentive?
Do residents appear happy, comfortable and sociable?
Are common areas busy or desolate?
If it's a nice day, are residents outdoors?
Are organized activities taking place in the fitness center or pool, multipurpose room or arts studios?
Ask your sales counselor:
Is there a monthly activities calendar? May I see it?
What type of wellness programs are offered?
What type of transportation is available?
Are special dietary options available?
Is the community financially stable?
What are the financial options?
What is included in the monthly fees? What isn't?
Is any portion of my entrance fee returned to me or my estate?
What levels of ​long-term care​ are available?
Is care included in the regular monthly fee?
May I tour the health care center?
May I meet the executive director?
How much does it cost to live here?
A reputable community with good sales counselors will show you everything and answer all your questions — either on your tour or during a more formal one-on-one appointment.
Remember, knowledge is your friend. The more information you have, the more confidently you can ​choose the right community​ for you.
This should get you started on your senior living journey. If you have any questions about Friendship Village Tempe or any ​retirement community in Phoenix​, please use us as a resource. Just fill out the form below, and we'll be in touch.
*This is a fair question that must be answered before ​choosing a retirement community​. However, your costs will depend on a few variables, including the floor plan you want and whether you live alone or with a companion. Don't be put off if your sales counselor can't answer this one exactly and immediately. A good one will provide an answer sooner rather than later.