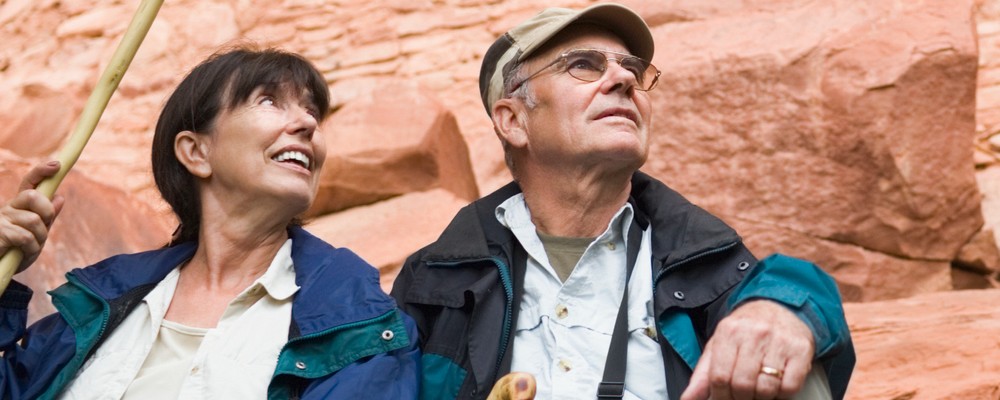 At Friendship Village when we tell you to take a hike, it's not an insult — it's an adventure! Our hiking club for seniors, the Carefree Climbers, has been tackling the terrain of Tempe, AZ, for almost 20 years, and they've learned a thing or two along the way.
Learn the benefits of hiking for seniors, and read tips from two members of the Carefree Climbers on how to safely enjoy your time on the trail.
Three Big Benefits of Hiking for Seniors
Hiking offers several benefits for your mind, body and spirit. Here are three ways hitting the trail can improve your overall health and enrich your retirement.
Build better bonds with your loved ones
Hiking with a friend or in a group can improve the strength of your relationships. Experts associate this benefit from being around like-minded people who are there to motivate each other to reach a common goal. Some research even shows hiking clubs who regularly have adventures together share special language, behaviors, and attitudes on and off the trail.
Carefree Climbers at Friendship Village is a hiking club that welcomes all older adults in the Tempe, AZ, area. All our hikes are on established trails within a 60-mile radius of our senior living community, and you don't have to be a resident to join.
Our hiking club for seniors invites new hikers and seasoned trailblazers alike. Contact Friendship Village to learn how you can join the Carefree Climbers to take a hike in Tempe with the friendliest people this side of the Salt River. We'd love for you to join us!
Boost your mental health
Forest bathing is a popular mental health boosting technique that involves mindfully spending time in nature. It can reduce depression, anxiety, fatigue and tension, and increase mindfulness and encourage you to live a more eco-friendly lifestyle.
You can receive the same mental health benefits with desert bathing. Research shows that no matter your location, fresh air and natural landscapes can make you feel better inside and out. You can better experience your surroundings by tuning into the sights, sounds and smells of the desert. Begin your hike slowly and mindfully. Stop to observe plants, feel different textures, or even jot down feelings or sketch an image in a journal.
Improve your physical health
Whether you're on a flat trail or taking on something more rugged, hiking is a great way to get exercise. It packs several health benefits not only because it's physical activity, but also because hiking is a weight-bearing exercise.
Weight-bearing exercises are especially helpful for older adults, because they can maintain and improve:
Balance
Muscle strength
Range of motion
Flexibility
Cardiovascular health
"Hiking has allowed me to experience more of Arizona in the past few years than the previous 20. I've met new friends and enjoyed hours of great exercise." – Diana S., Carefree Climbers member
Recommended Gear and Senior Hiking Tips from the Carefree Climbers
Hiking is a fun and exciting experience, but it's important to do it safely. Check out these four senior hiking tips from Diana and Velma, two resident leaders of our Carefree Climbers club
Check with your doctor beforehand and hike safely
If you're new to hiking, let your doctor know before you hit the trails. Even though you're in good physical condition, it's best to get a clean bill of health before starting a new exercise. Your doctor will most likely support your new goal, but may want to offer advice on things like how certain medications react to sun exposure, or how often you might need to take a break for a light snack.

Eight-year member of the Carefree Climbers Velma says, "To have a carefree experience, planning is necessary; safe practices have positive outcomes." Ultimately, you and your doctor are the only people who can truly decide if hiking is a safe activity to add to your lifestyle. Velma also suggests contacting Friendship Village to get a copy of the Carefree Climbers rules and guidelines, if you plan on joining the hiking club for an upcoming hike.
Wear clothing that can face the elements
A good pair of hiking pants is a top recommendation from Carefree Climber Diana. She says, "I soon learned that jeans are easily snagged on the trails. A donated pair of authentic hiking pants solved that problem. They're infinitely better at resisting snags and they have pockets in really handy places."

She also recommends high-top hiking boots to protect your ankles, a hat with a wide brim to protect you from the sun, a neck scarf for an easy way to stay warm on cool mornings, and a waist pack for essentials like snacks and first aid supplies.
Improve your stability with walking sticks
Another top hiking gear recommendation from Diana is a walking stick, also known as a trekking pole. "I started with just one to see how I could manage, and it's been a great help keeping me on my feet in certain terrain."
Along with helping you maintain your balance on the trail, the right trekking pole can reduce load-bearing weight on your knees, joints and spine. They're great for hiking, but are also a wonderful tool to help you heal and maintain mobility after an injury.
Keep your cell phone handy
Velma recommends a neck wallet. "These are great for hikers and walkers. You can keep your cell phone handy for taking photos." However, Velma also recommends keeping your phone on silent, so everyone can peacefully enjoy the outdoors.Neck wallets are available to all Friendship Village residents and can be found in the fitness center, where you can also find the Carefree Climbers hiking schedule and schedules for the many other resident-led clubs in our community.
Explore the Possibilities and Pursue Your Passions at Friendship Village Tempe
Our recent expansion was so popular, we're doing it again! Our warm and inclusive senior living community in Tempe, AZ, is adding 64 apartment homes just right for active and vibrant seniors like you. Now's the time to secure your spot and save thousands with the lowest price we'll ever offer. Contact Friendship Village online, R.S.V.P. for an event, or call us at 480-582-1119 to learn more.