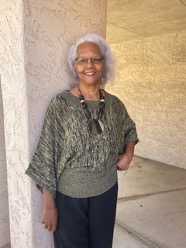 (Tempe, AZ) March 6, 2023 – Rosemary James has lived a life of purpose.
"My mother and father always stressed the importance of education," said the resident of Friendship Village Tempe, an area senior living community. "Education was my avenue to opportunity."
Aside from education in the classroom, James has found a calling in a different sort of education – one she's now pioneering at Friendship Village.
"Over the course of my life there has, of course, been progress in the fight against racism," James said. "With that said, there is still so much work to be done to combat racial prejudice, as well as promoting diversity and inclusion."
What does all of that have to do with a retirement community?
"When I moved to Friendship Village, I made it clear to the leadership team here that diversity and inclusion were extremely important to me," she recalled.
James quickly learned those things were important not just to Friendship Village's leaders, but to her fellow residents as well. From there, the community's diversity committee was formed.
"I felt like I was heard," James said. "It's because of the leadership here at Friendship Village that we are where we are."
Where are they? They are offering a workshop that James pioneered at her church. Embracing and Celebrating Diversity seeks to educate and empower those who take part to see the world through the eyes of others.
"When I tell people about my experiences, many of them have a hard time believing me at first," James shared. "But once they've heard me and we engage in conversation, they want to learn more. They want to grow as people. That's such a wonderful thing. This gives me hope for the future of all people."
Of course, when you begin to offer workshops, there's no guarantee anyone will show up. While diversity, inclusion and combating racism are important topics, they often make people uncomfortable. Not so at Friendship Village, where a waiting list now exists among residents.
The next workshop is on Thursday, March 16, and Tuesday, March 21, from 9 to 11 each day, and media are encouraged to attend.
NEWS RELEASE
Media Contact: Jeff Bell
Phone: 913.787.5512 / Email: jbell@bellpr.org