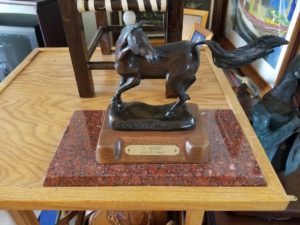 For John Bestall, the tragedy of losing his hearing during a World War II bomb blast hasn't made life easy. But John is no ordinary guy, and he's made up for the loss of his hearing by accomplishing extraordinary things.
Bronze sculptures adorn John's Friendship Village apartment, but these aren't just a collector's display. Each is a work of art, crafted by the very hands of a war hero relying on his other four senses to get the most out of his time and talent.
"So often, our veterans come home with wounds of war that never fully heal," said Friendship Village Tempe Executive Director Cole Marvin. "John's story is one that can provide inspiration for these wounded warriors and their families."
At 98, John says his mind has remained sharp thanks to the mentally stimulating art he's created, as well as the friendships he's built and fostered at Friendship Village. His fellow residents say they're impressed both by John's talent and also his kindness, making Friendship Village true to its name.