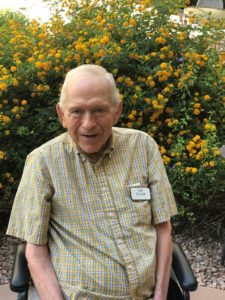 Life threw a curveball at Friendship Village Tempe resident Bob Dolphin when he was still just a high schooler. A polio diagnosis shattered his dreams of wrestling in college and left Bob wondering what was next. After eventually losing the use of his arms, Bob made the decision to get the most out of life despite his circumstances.
Today, Bob estimates he's driven more than a million miles with a foot steering system he learned to use shortly after he lost function in his arms. He's a retired college professor, dean and former president of Fort Lewis College in Durango, Colorado, as well as the city's former mayor. While he never got the chance to wrestle collegiately, it's safe to say Bob won the match with polio.
"It's easy to forget that polio was once a serious disease in this country," said Friendship Village Tempe Executive Director Cole Marvin. "Bob's story not only causes us to give thanks for the vaccine, but also to pause to remember that life's obstacles are never insurmountable. He's a true inspiration."
Bob's friends and neighbors say it's easy to draw inspiration from his story, helping them to enjoy their own lives with a greater sense of appreciation for the world in which they live.