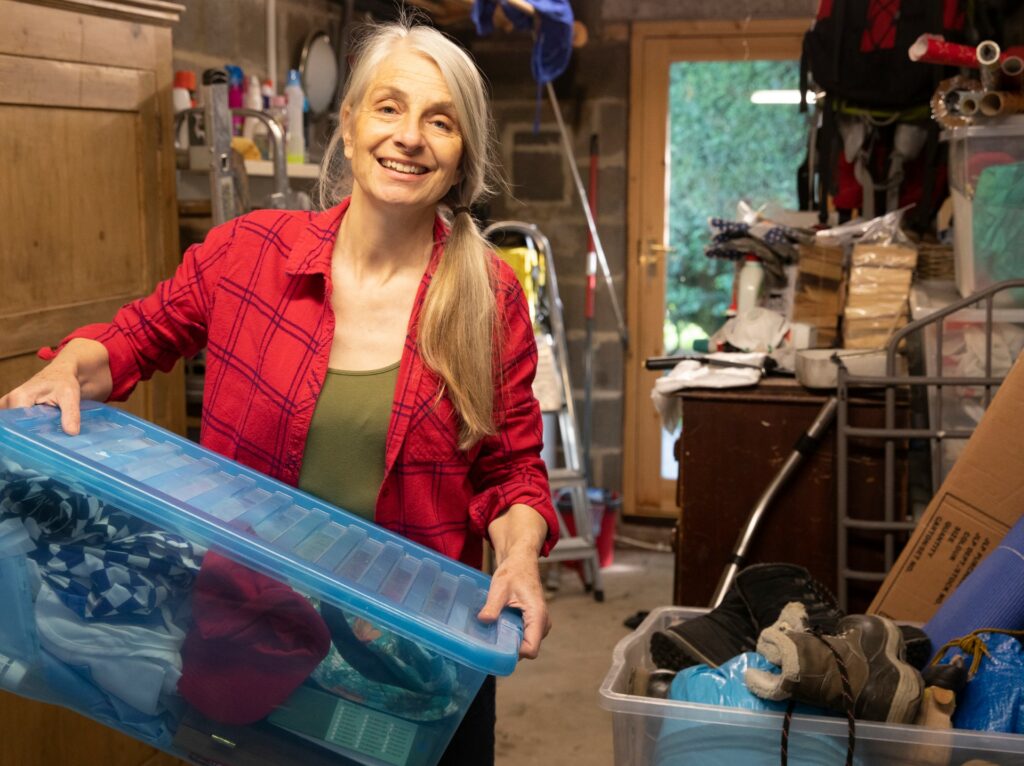 Clutter is what you end up with when you have more stuff than you need. Clothing you don't wear. Family heirlooms you don't like. Magazines and books you'll never read again. Food beyond its expiration date that you can't eat.
Living with clutter makes life harder. It's hard to find things when there's no designated place for them. Clutter also makes it harder to clean your house. And it can be detrimental to your health. If you're overwhelmed with too much stuff, it can take a toll on your mood and self-esteem. Clutter could even land you in the hospital if it trips you up and you injure yourself in a fall. All good reasons to declutter your home.
Need more reasons to declutter your home? A report by the National Association of Professional Organizers found we'll spend an average of one year of our lives looking for lost possessions due to clutter. If it's an unopened bill you can't find, it could cost you money in late fees. Plus, a cluttered living space adds stress, which saps your energy and makes it harder to focus. If that sounds familiar to you, now's the time to declutter your home and start feeling better.
Clearing clutter doesn't mean throwing everything out. It's all about figuring out what's really important to you and letting go of what isn't. To get you started, follow our tips to declutter your home, organize your space and make room for what brings you joy.
12 tips to declutter your home.
1. Schedule time on your calendar. Then show up for your appointment. Plan the time you will actually declutter your home. The shorter the time span, the more you increase your chances of tackling the project.
2. Break it down. Break big projects into mini-projects to complete over several sessions. For example, to declutter your closet: 1) Move the clothes you love and wear to one end of your closet and put the rest in a bag or box. 2) In your next sessions, focus on clothes or shoes or those boxes that have been buried in the back of your closet.
3. Identify what's important to you. Be able to articulate each item's purpose. Is it necessary? Is there sentimental value to the item? Is it of significant financial value? Would a family member or friend appreciate it or use it?
4. Remove anything that could cause you to fall. Clear shoes, bags, pet toys and other items off the floor that could trip you up. Remove throw rugs and rearrange furniture so corded lamps are closer to an outlet. You can also buy cord covers to hide wires.
5. Find a place for everything. Look at the stuff that never gets put away. Chances are it doesn't get put away because it doesn't have a home. If you want to know how to organize your space, find a place for everything so you can always put your hands on what you're looking for.
6. Toss those toiletries – Go through the cabinets and drawers in your bathroom and get rid of makeup more than a year old, sunscreen more than two years old, perfume more than three years old, anything past its expiration date, any toiletries you no longer use.
7. Look for dust – A layer of dust is a sign that you aren't using this item. Consider giving it away or selling it. Look at decluttering as an opportunity to share your abundance. It's one more good reason to declutter your home.
8. Turn clutter into cash – The average American has thousands of dollars' worth of unused items that could be sold or donated to a charitable organization for the tax write-off. If you're selling something of high value, don't do it on your own. Get it appraised first.
9. Digitize photos and important documents. Your filing cabinet is probably full of paper. Shred any records you no longer need. For files you want to keep, but don't need to maintain as originals, create digital copies. Important documents and photos can be digitized at a reasonable price. You can also have copies made to give to family members.
10. Display framed photographs in a grouping on the wall. This will significantly reduce the amount of dusting you have to do and look less cluttered than a standing display.
11. Beware of "storing" things. For some things — holiday decorations, seasonal clothes, vacation gear — storage makes sense. You put these things away, and when you need them, you get them out again. But in many cases, storing a possession is just a way to delay deciding what to do with it. The U.S. Department of Energy estimates that 25% of people with two-car garages don't park their cars inside because that space is used for storage. Before you squirrel something away, ask yourself, "Why am I keeping this?"
12. You don't have to do it all by yourself. If you're on your own, decluttering your home can prove stressful and time-consuming. Ask your children to help or invite a friend over to help you sort items into keep, donate and trash piles. You can also call in a professional. Professional organizers can help with any aspect of getting your living space organized and clutter-free.
Once you've eliminated clutter, you'll have more space in your life for the things you love. Maybe that's a photo gallery on a wall. Or space for art or plants. Or simply a clean, well-organized place to relax and feel rejuvenated.
Make room for a life you'll love.
If you're considering a move in the next year or two, decluttering your home now will make your move easier. At Friendship Village Tempe, we offer a range of floor plans to fit your needs. View our floor plans.