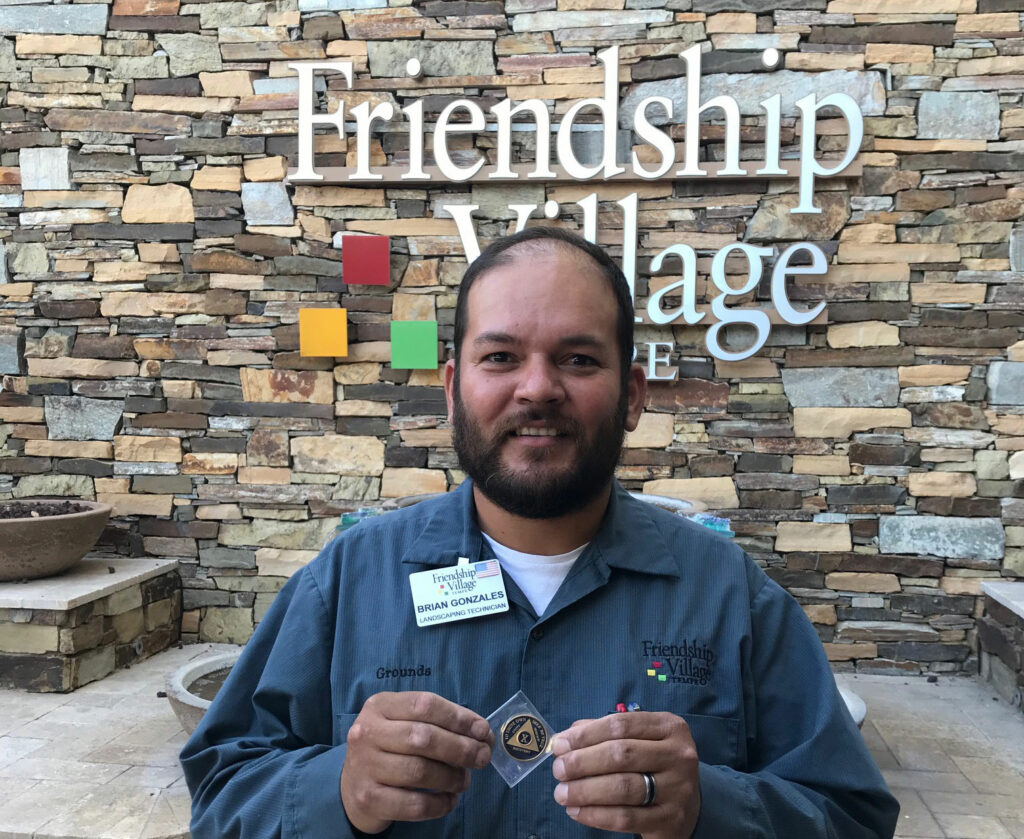 Ten years ago, Brian Gonzales was a homeless addict in and out of jail. Hooked on drugs from the age of 13 and a survivor of multiple overdoses, he vowed to make a change. His commitment to recovery led him to Friendship Village Tempe, where he began working as a groundskeeper. Little did he know how much the senior living community would impact his life.
"It felt like everyone had given up on me," explained Brian. "I got tired of being alone and living my life in such a risky way, so I decided to change for the better."
Despite his past challenges, Brian says Friendship Village treats him like family, offering a sense of purpose and a much-needed support system. Not only has he established a successful career, but he is also now a family man. Brian met his wife, Christine, at the community, and the couple has a beautiful daughter.
"A lot of positive people are around me at Friendship Village," said Brian. "I know I have leadership and my colleagues on my side, and I can always reach out to them if I ever need anything. I've never experienced so much love and support in my life, and it really keeps me going."
While 2020 has been a roller-coaster year due to the pandemic, Brian is nonetheless thankful to have celebrated a decade of sobriety with his Friendship Village colleagues and residents by his side. It's a testament to "Open Arms," one of the community's foundational pillars that promotes acceptance for all.
"It was a tearjerker to celebrate with my team," he said, noting that his direct supervisor surprised him with a cake designed as a sobriety chip. "They really respect and care about my sobriety."
"We couldn't be prouder of Brian," said Cole Marvin, executive director at Friendship Village Tempe. "Making such a drastic change in your life isn't easy, but he's been able to show that it's possible with dedication, perseverance and hard work. Our community is fortunate to have him on our team."
"Friendship Village was a big steppingstone for me getting to a better place," added Brian. "I love working at the community. The people are very kind, and I see myself retiring here."