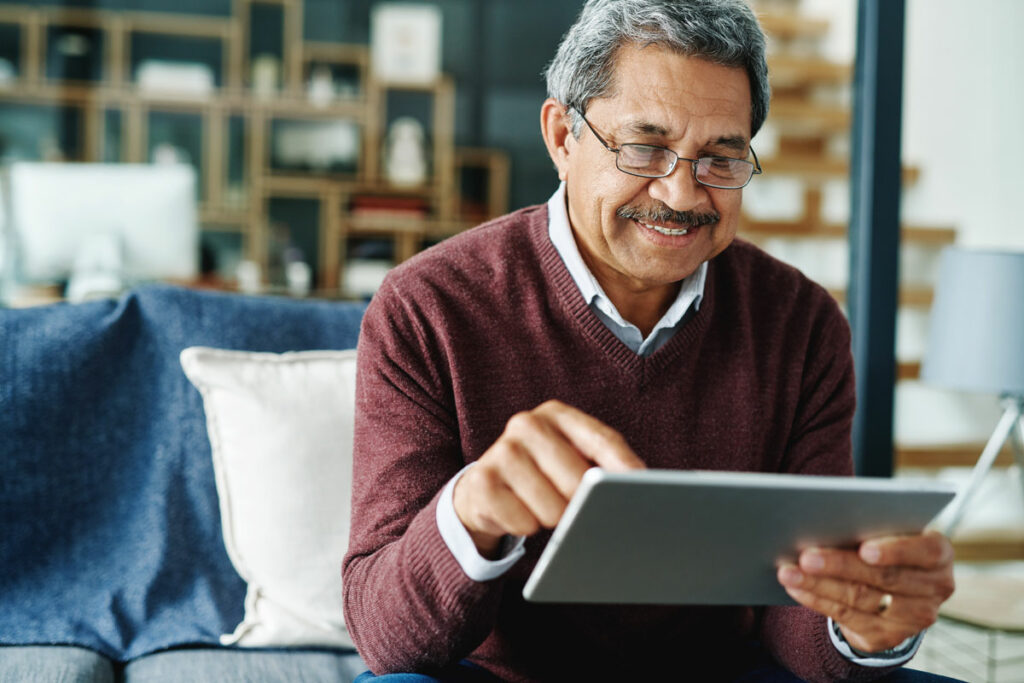 Following guidelines for staying at home and social distancing is our best defense at the moment for preventing the spread of coronavirus. But it has also put life as we knew it on hold. Friendly get-togethers and educational events are now held online. Tours are conducted virtually. And face-to-face meetings happen over your phone.
The good news is, it's never been easier to research your senior living options from home. If you know what to look for in a senior living community, video chats, webinars and virtual tours can provide the answers you need.
While social distancing is in effect, here's how to connect with the senior living communities on your shortlist.
1. Check out their website.
Since you're reading this blog, you're already in a good position to learn more about us. Most senior living community websites provide information about floor plan options, services and amenities, and the range of health services available to residents.
To see what life looks like at a senior living community, visit their Gallery  page. Our photo gallery gives you a glimpse at the many activities, personalities and pets at Friendship Village. Our video gallery is another way to get to know us. Residents share their views on what makes life here so richly rewarding.
2. Take a virtual tour.
Our virtual tours allow you to have a good look around our community without leaving your chair. You can stroll through our fitness center and outdoor pool, dining venues, an independent living apartment home and more, all from the comfort of home. For a personal video tour, ask the community about FaceTime calls. If you have an iPhone, iPad or Apple computer, you're all set.
3. Keep up to date with Facebook.
Most senior living communities have a Facebook page. It's a good way to take the pulse of a community, see what's happening currently, and read reviews. You can also send a message directly from the Home page.
4. Video chat: We love to see your smiling face.
If you have an iPhone, iPad or Apple computer, you've probably used FaceTime to make a video call with friends and family. And while we can't charm your socks off like your grandkids do, we look forward to seeing your beautiful smile. If you're unsure about how to connect with us on FaceTime, simply tap "Accept" to answer our call. Alternatively, give us a phone call, and we'll walk you through the steps. For more instructions on how to make a FaceTime call, read this article from AARP.
No iPhone or Apple computer? If you have an Android phone or a Windows computer, you can use Messenger for video calls. You probably use Messenger already to send text messages on Facebook. But you can also use it to make phone calls or video calls. You can learn more about using Messenger for video calls here.
Another option is to download Skype to make video calls. Check with the community you're researching to see which video chat app they prefer to use.
5. Attend a meeting or virtual event from home.
We're still holding events and meetings to answer your questions and stay connected; we're just doing it online via Zoom so you can join us from home. Once you've registered for the meeting or event, we'll send you an email with a link to "Join a Meeting." It's a lot easier than having to drive here to see us, though we can't wait for the time when we can all be together again safely. Until that time, Zoom meetings are the way to go.
What to look for in a senior living community
Before you start looking at senior living communities, you should ask yourself why you're considering a move in the first place. Fewer worries about potential health care needs? A richer social life? Not being a burden on your family? More time to do the things you enjoy?
Whatever's got you considering a move to a senior living community, it helps to have a list of questions to ask during your search. For questions and more, read our blog post: How to Choose the Best Retirement Community for You. Then start your search by visiting websites and asking questions. And by all means, reach out to us for expert advice. Just use the contact form and we'll be in touch with you. Virtually speaking, of course.