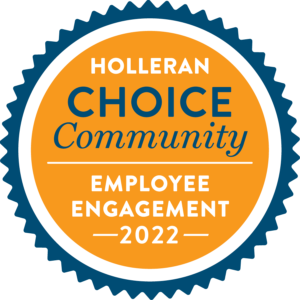 Friendship Village Tempe has been recognized for their admirable engagement scores, placing them at the top of the benchmark of Life Plan Communities across the nation.
Friendship Village Tempe was awarded Holleran's Community Choice Award for completion of their 2022 Employee Engagement survey. This accolade means we are engaging with our stakeholders at the highest possible levels, placing Friendship Village Tempe at the top of the Holleran National Benchmark. It also demonstrates that we have been recognized as one of the most engaging senior living organizations across the nation. A proprietary algorithm, developed by Holleran's highly trained statisticians, researchers, and analysts, determines Choice Community Award recipients.
For Friendship Village Tempe to earn the Choice Community Award distinction means, "Friendship Village's reputation for operational excellence isn't an accident nor is it luck. It's the result of an ongoing Village-wide concerted effort to ensure we have and retain a highly engaged team. It's also not a coincidence that we have the highest level of resident satisfaction amongst the more than 150 communities that Life Care Services manages nationwide. Our team and their level of engagement is the secret sauce to the ongoing success that Friendship Village enjoys."
Holleran has the largest benchmark of its kind, measuring both resident and employee engagement in the senior living space. Currently, the benchmark comprises more than 125,000 resident and employee independent living surveys, from nearly 400 organizations across 38 states, all completed within the last three years.
About Holleran: Holleran is the premier provider of employee and resident engagement and satisfaction research and benchmarks, serving not-for-profit senior living providers nationally. For nearly 30 years, Holleran has specialized in researching and consulting with senior living providers, retirement communities, and healthcare systems to develop business strategies that match their mission, vision, and values. Utilizing sophisticated research analysis, alongside our extensive survey benchmarks, leaders gain a clear vision of the strengths and opportunities within their business. Learn more at www.Holleranconsult.com.