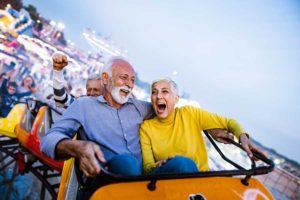 Find a retirement community that fits your lifestyle.
Affinity and niche senior living communities let you be you.
Have you ever bought a pair of shoes that looked great but didn't quite fit you? They pinched your toes, left a blister on your heel, made you walk funny, and just weren't — right. (Go ahead and slip them off. We'll wait.)
Choosing a senior living community is similar. Your choice should include more than a plan for future health care needs, though a plan is important too.  Your community of choice should fit your personal retirement lifestyle with a culture where you can let your hair down and feel welcome. There are countless communities to consider nationwide, and plenty here in the Phoenix-Tempe area. Each has a personality of its own. This article will explore a few types of niche senior living communities and help you decide whether that's the right path for your retirement lifestyle.
Niche communities, also called affinity communities, are a growing trend in senior living. They address the tendency of some individuals toward living and socializing with people who share the same interests and values. And if we're going to be living in community together, the theory goes, it helps if our lifestyles are simpatico, too. Throw in a shared vision or a passion for a particular type of hobby or vocation, and you may find this pair of "shoes" fits just right.
Active lifestyle retirement communities — There are communities that fit almost any type of active lifestyle, and they're often associated with a particular geographical location. If you enjoy fishing, watersports or being a beach bum, you may choose a community near a beach. If you're more of a back-to-nature  type, a community near a state or national park or other place with hiking trails might be right up your alley. You can also find communities for people who enjoy playing golf or tennis — and even those who just enjoy watching the pros play the game.
LGBT retirement communities — Many, though not necessarily all, senior living communities have a culture that is accepting of LGBT lifestyles. But older lesbian, gay, bisexual and transgendered adults can find people who share their values — and be in the majority — in the rising number of LGBT retirement communities. These communities usually offer the same services, amenities and health care options available in any other senior living community.
Luxury retirement communities — Luxury retirement communities offer a resort-style retirement with five-star amenities and accommodations. Some have free-standing homes of 3,000 square feet and more, as well as penthouse-style apartment homes.
The uplifting wonders of the have-it-all niche — Variety being the spice of life, many older adults feel energized in a diverse setting. A community like Friendship Village Tempe isn't an affinity community; rather it celebrates individuality, fostering friendships and good times among residents — regardless of race, religion, sexual orientation, shoe size, etc., etc., etc. In short, our retirement lifestyle doesn't exclude — it welcomes. Meanwhile, whatever puts a smile on your face is yours to pursue: art, fitness, brainy discussion groups, music and song — there are already-assembled groups that welcome new members, and you're welcome to start a new committee too. Bet your bottom dollar you'll find a neighbor who shares your interests. And so you can enjoy today to its fullest, tomorrow's care needs are covered with access to a highly rated health center, right on campus. Why not have it all, all in one place?
With the growing number of baby boomers reaching retirement age, retirement communities are popping up around the nation to cater to everyone's interests. The types listed above are not the only ones. There are communities for artists, for people retired from the entertainment industry, for immigrants, even for nudists. There are cruise ships with assisted living services and even RV communities for people who like to take their retirement on the road. So no matter who you are or what kind of lifestyle you enjoy, you owe it to yourself to find the community that's the right fit for you. Because you don't want uncomfortable shoes.
To learn more about what makes independent living at Friendship Village Tempe unique, fill out the form on this page to schedule a personal appointment. We'd love to give you a tour, treat you to lunch and answer all your questions.