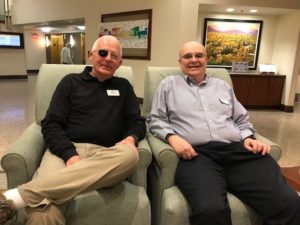 It's not hard to stay in touch with old friends these days. A quick search on Facebook, a friend request and you're connected for life. It was a different story more than 50 years ago, when Union City, New Jersey, pals Tom Poole and Rich Mente began to lose touch. Only a twist of a fate, and more than 2,000 miles, would bring them back together as both chose Friendship Village Tempe when it came time for retirement.
"Life took us down two different roads, and somehow, those roads met here," says Tom. "Two old friends reunited at Friendship Village. It doesn't get much better."
It had been more than a half-century since the two had seen one another, when the discovery was made that both were enjoying life at The Village.
"There are a lot of unique stories here, but this one is definitely near the top," said Executive Director Cole Marvin. "What a special thing for these two great guys to reunite right here at Friendship Village."
Tom and Rich can be seen together often, enjoying the many activities and fine dining options at the community.
Retirement Community in Tempe, Arizona Honors Residents
Our culture embraces individuality and residents are drawn to fun. Residents make it their business to create good times for themselves and others. At Friendship Village, we want you to enjoy today to its max, and make tomorrow better still. Contact us to learn more about the carefree lifestyle.